A Royal Holiday in the Riviera Maya
The Riviera Maya is one long stretch of some of the most pristine beach and vacation territory anywhere in the world. Royal Holiday travelers have, for many years, settled down in Cancun or across the water in Cozumel, but the Grand Riviera Princess brings them somewhere very special – and right in between these two very ideal locations.
The Grand Riviera Princess is located about 50 kilometers (31 miles) south of the Cancun airport, about a 45 minute drive in a taxi or shared airport van. The town of Playa del Carmen is an additional ten minutes drive, past the resort.
In pleasant contrast to Cancun, which is a far more populous city, Playa del Carmen is a more traditional pueblo with a small beach-town feel. Catering to an exclusive international clientele, Playa del Carmen is world famous for long days, excellent cuisine and every variety of vacation activity both onshore and off.
The Mexican Caribbean laps at the edge of this blessed peninsula with turquoise seas, more wildlife than it knows what do with, and some prime vacations are just waiting to happen. The Grand Riviera Princess is among the most spectacular luxury hotels on the riviera and it's almost walking distance from Playa del Carmen (about ten minutes in the free shuttle).
No less than 12 restaurants specialize in Alpine, Asian, Mexican, Spanish, Italian, Seafood, and gourmet international fare and four more buffet restaurants let you come and go as you please. That may be more restaurants than you can visit in a week! Don't worry. There's also 24 hour room service and everything you need to make your stay better than fulfilling.
The Grand Riviera Princess boasts one of the area's most inviting spas, world-class fitness equipment, and nine tennis courts. Everything is on-site and convenient for a long stay or a long inviting weekend. Kids are well taken care of with presentations at the Princess Theatre during the day and organized activities throughout each and every day. Babysitters are also on call.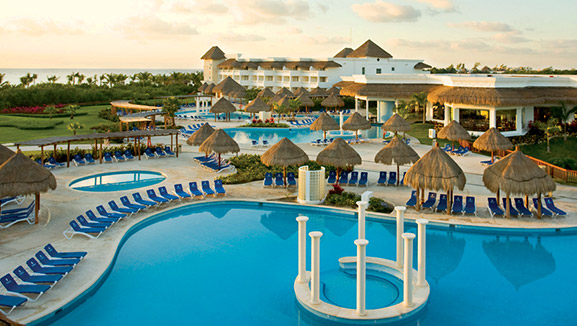 Grown-ups have fun too. Ten lounges include everything from swim-up martinis to the late night Areíto nightclub with dancing, music and fun. And of course there's an incredible stretch of perfect beach, white sand and everything you've been dreaming of.
With a grand total of 13 swimming pools, four are just for the use of kids, and introductory diving lessons can be a part of every vacation. There's just that much sea to want to explore.
Teens get their own club too. And the Chill Out Beach Club includes everything to keep young people occupied and grown-ups having fun.
A five star resort, relaxing, enjoying and exploring are all the order of the day. A full variety of massages, facial treatments and extras rejuvenate the body and the soul and that's just an added bonus to this magnificent landscape. All of this is framed by some of the world's most beautiful coastal and Caribbean seascape.
The Grand Riviera Princess in the very heart of the Riviera Maya offers easy access to:
• Playa del Carmen, 10 minutes on the free guest shuttle
• Cancun and Tulum, about 40 minutes by bus or taxi
• Xcaret and Xplore parks, about 15 minutes drive
• Ferry to Cozumel, about 10 minutes drive and 35 minutes to cross
The Grand Riviera Princess is welcoming Royal Holiday travelers, year round, for the spectacular scenery and for the perfect place to enjoy far better than an unforgettable vacation. Call Membership Services to book your 2014 vacation or visit the website to see more and to make this the year you'll never forget.