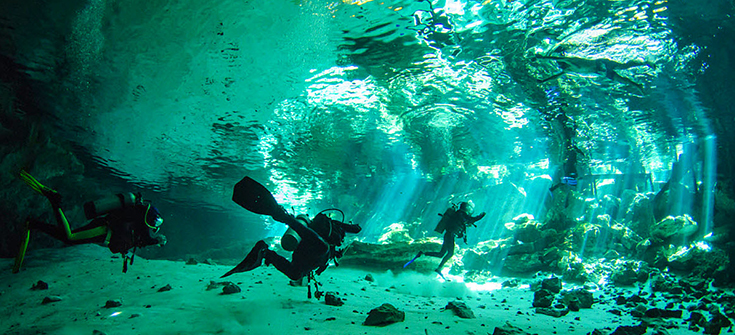 1. The natural wonders of the Yucatan Peninsula are countless, but some of the most unique to the area are the cenotes in Riviera Maya. Usually with waters so calm and clear you can see the bottom, even if this is 100+ feet in depth! There are so many different kinds; each one is a unique mysterious adventure.
2. Cenotes are sinkholes primarily made of limestone. They're filled with either fresh water from the rain, or connected throughout underwater cavern systems filled with salt water. In some cases they have both fresh water and salt water too. There are over 6,000 of these throughout the whole Yucatán Peninsula and each one of them is uniquely amazing.
3. For thousands of years, the porous land surface, formed by fossilized coral and limestone, has filtered rainwater, which dissolved parts of the subsoil. This phenomenon is truly unique, and makes up the largest network of caverns in the world. The stalactites and stalagmites that form inside the cenotes are true natural works of art. In many, holes in the ceiling allow the sunlight to filter into the cenotes, giving the scene a magical feeling.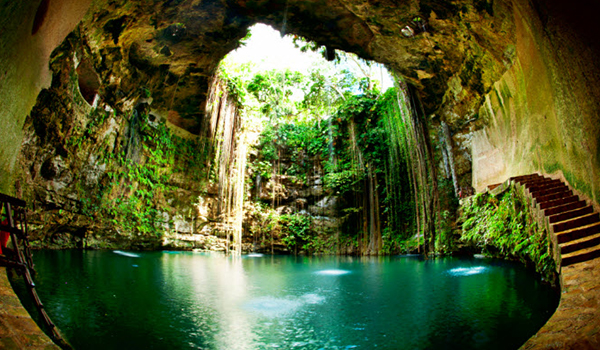 4. Mayans would use cenotes as fresh water sources; they would call them "sacred well" because Mayans thought cenotes were filled with magic elements and helped them communicate with their Gods.
5. An obligatory route is "La ruta de Puerto Morelos" consisting of 8 cenotes of different sizes, with up to 60 meters deep. We recommend Las Mojarras, Verde Lucero, Chilam Balam, La Noria and Zapote.
6. Some sinkholes such as Boca del Puma or Kin Ha have Ecoparks that offer recreational activities including zip lining, hammocks, diving platforms, horse and bike trails, off-road motorcycles, and restaurants.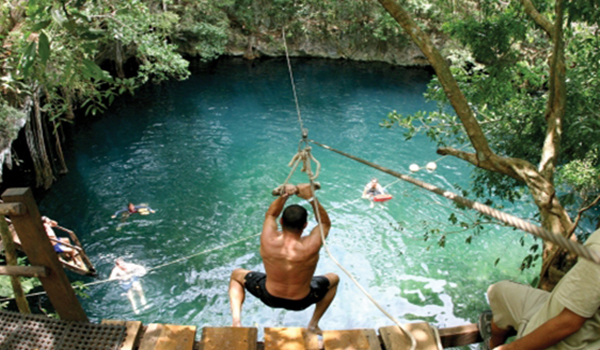 7. If you want to have an adventure with less people, Cenote Siete Bocas is unforgettable. This large sinkhole has seven small entrances that have opened in the earth; and it's especially popular with cave divers. You'll need scuba equipment to explore the entire underground lake and with seven sources of light pouring in, the view from the deep is unreal.
8. Cenote Dos Ojos is located about 15 minutes drive north of Tulum and is surrounded by jungle. With all the gear on, you can hike down the stairs to the East Eye and down to the platform. Once you descend you see beams of sunlight sparkling, refracting and reflecting creating amazing light effects. Other suggestions: Chac-Mool and Nohoch Nachich.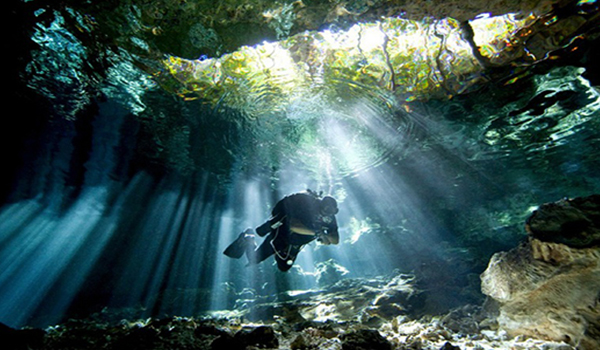 9. In most cases, cenotes offer basic facilities such as bathrooms, dressing rooms and parking. Please get informed in advance. Bring insect repellent, and biodegradable sun lotion. Wear light clothing.
10. There are many famous sinkholes in Riviera Maya where you can practice diving or snorkeling or simply enjoy the marine life swimming with your friends or family.
Find more information by clicking on Cenotes the Sacred Waters of the Riviera Maya.
Experience a once in a lifetime adventure through your
Royal Holiday

membership and stay either at Park Royal Cancún, Grand Park Royal Cozumel or at the Grand Riviera Princess in Playa del Carmen.
Dive into the sacred waters of the Riviera Maya!