There is much more to
New York

than meets the eye. Besides museums, monuments, parks and iconic tourist attractions, we suggest your visiting these 5 extraordinary sites, which will create everlasting memories.
New York Public Library
Located on 42nd Street and Fifth Avenue this beaux-arts show-off is one of NYC's best free attractions. When dedicated in 1911, New York's flagship library ranked as the largest marble structure ever built in the US, and to this day, its Rose Main Reading Room steals the breath away with its lavish, coffered ceiling. The building in itself is home to precious manuscripts by just about every author of note in the English language, including an original copy of the Declaration of Independence and a Gutenberg Bible. The Map Division is equally astounding, with a collection that holds some 431,000 maps, 16,000 atlases and books on cartography, dating from the 16th century to the present. To properly explore this mini-universe of books, art and architectural flourishes, join a free-guided tour (departing from Astor Hall) or grab a free audio guide from the information desk (also in Astor Hall).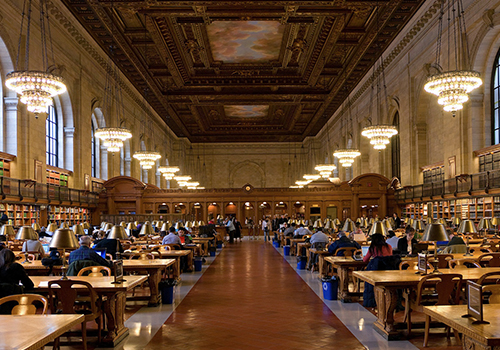 Roosevelt Island Aerial Tram
The Roosevelt Island aerial tramway in New York City spans the East River and connects Roosevelt Island to the Upper East Side of Manhattan. It began operation in 1976. At its peak it climbs to 250 feet (76 m) above the East River as it follows its route on the north side of the Ed Koch Queensboro Bridge, providing panoramic views of the East Side of Midtown Manhattan. The tram is wheelchair accessible and bicycles are permitted on the tram. You'll need an MTA Metro Card to use the tram.
Address: 59th Street and Second Avenue (Midtown)
For a complete tram schedule: http://rioc.ny.gov/pdf/TramBusSched.pdf
Phone: 212 832 4555‬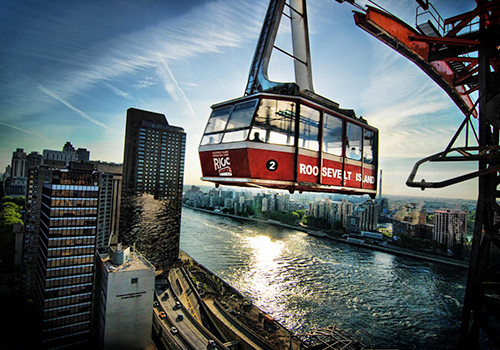 Central Park Zoo
The Wildlife Conservation Society's Central Park Zoo and the Tisch Children's Zoo. Here, are a few yards from 5th Ave. Here you'll find over 130 different species ranging from Snow Leopards and Tropical Birds. A walk around the Zoo's five plus acres will take you through a variety of habitats, all carefully designed to recreate the natural environment of the animals they house. Be sure to check out the renovated Polar Seabirds exhibit with four species of penguins including Gentoo, Chinstrap, Rockhopper and King Penguins. A favorite with many visitors is the sea lion pool in the center courtyard. Its new design features glass sides so that viewers can watch these sleek carnivorous mammals gliding and spiraling under water. The Tisch Children's Zoo is a favorite among kids; here children can get close to goats, sheep, a cow and a Vietnamese pot-bellied pig. In the center of the Children's Zoo is the Enchanted Forest. Artisans mimicked the colossal remains of primeval oak trees, acorns, and a giant spider. In the central aviary — actually a complete habitat — you will see live turtles and frogs along with birds. You'll also find one of the two children's theaters there.
Hours:  March 23 – Nov 3 Weekdays 10 am – 5:00 pm Weekends & Holidays 10 am – 5:30 pm
Address:  64 Street and Fifth Avenue
Admission: Adults $12, Kids $7, Senior citizens $9
General Information Line: 212-439-6500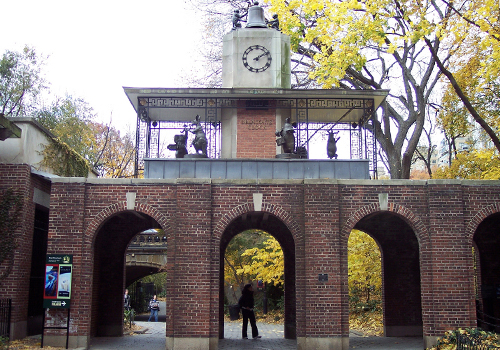 The Frick Collection
The Frick Collection is an art museum located in the Henry Clay Frick House on the Upper East Side in Manhattan. It houses the collection of industrialist Henry Clay Frick (1849–1919). The former Frick family home provides a tranquil environment to enjoy superb examples of Western European painting, sculpture, and decorative arts dating from the Renaissance to the end of the nineteenth century. It also has 18th century French furniture, Limoges enamel, and Oriental rugs. Included in the collection are Jean-Honoré Fragonard's masterpiece, The Progress of Love, three paintings by Johannes Vermeer including Mistress and Maid, two paintings by Jacob van Ruisdael including Quay at Amsterdam, and Piero Della Francesca's St. John the Evangelist. Adjacent to the museum is the Frick Art Reference Library; founded in 1920 by Helen Clay Frick as a memorial to her father. The collections held at the library focus on art of the Western tradition from the fourth century to the mid-twentieth century, and chiefly include information about paintings, drawings, sculpture, prints, and illuminated manuscripts.
Address: 1 East 70th Street
Hours: Tuesday – Saturdays from 10 am to 6 pm; Sundays 11 am to 5 pm

Admission: Children ages 10 and
Phone: 212-288-0700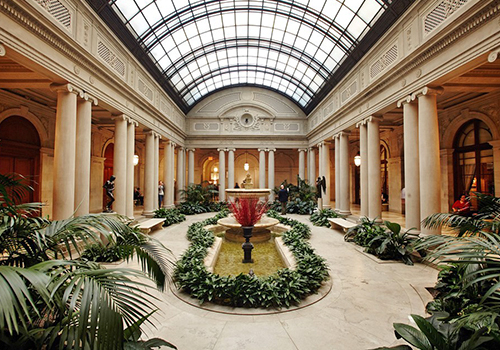 Cosme
Before he opened Cosme on East 21st Street in October, chef Enrique Olvera already had a pretty good handle on the cuisine of Mexico, having grown up and now owning a flock of restaurants there, including the globally acclaimed Pujol. Mr. Olvera shows an uncannily state-of-the-art instinct for what New Yorkers want when they go out for dinner. All culinary specialties are rooted in Mexican flavors and traditions, while also celebrating local and seasonal ingredients from the Hudson Valley and surrounding region. Olvera uses heat and spice to sharpen and define the outlines of a dish.  Dried ground chiles provide some backbone to a sweet pineapple purée served with firm, flavorful cobia and warm tortillas, for making an exhilarating seafood version of tacos al pastor. These are delicious. So are the duck carnitas, slowly braised in the meat's own fat with orange and Coca-Cola (the Mexican one, no corn syrup). Or the lobster paired, boldly and unerringly, with fresh chorizo and refried black beans. Almost everything you taste at Cosme seems new without being forced or mannered. It isn't the kind of Mexican cooking that can be learned on a vacation. It has to be lived, and for that there are no shortcuts.
Address: 35 East and 21th Street, Flatiron District

Hours: 12 pm to 11 pm

Phone: (212) 913-9659


We hope these suggestions were useful for your next visit to the Big Apple. Make the most of your Royal Holiday membership by staying at the Roosevelt Hotel or the Manhattan Club. Enjoy your stay!