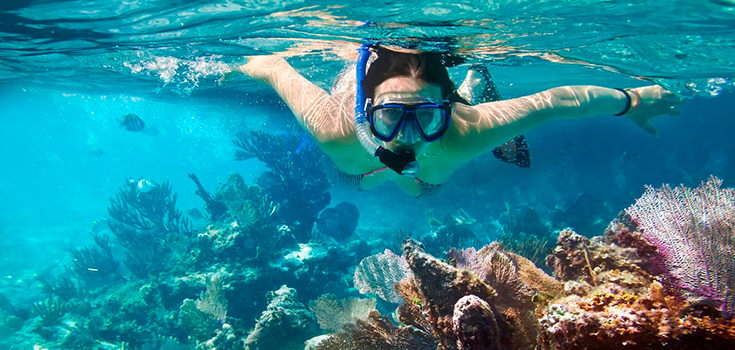 Discover the mystical island of Isla Mujeres, a gem off the coast of Cancun lying peacefully in the Mexican Caribbean. Magic is precisely how you will hear isleños -island residents- and visitors describe this island. This Isla, endearingly called by most residents, is 5 miles across the bay from Cancún. Catch the ferry that leaves from Puerto Juárez or Playa Tortugas.
✓
10 must-do activities in Isla Mujeres
1. Venture out to Garrafón Park, a special area for ecology, nature and adventure. Enjoy this tropical treasure through more than 20 activities such as snorkeling, diving, kayaking, zip lining, trekking, swimming with Dolphins to name a few.
2. MUSA snorkel offers you the chance to know one of Cancun's top attractions: Cancun's Underwater Art Museum. Admire + 460 Jason DeCaires Taylor's statues while snorkeling in a guided tour. No experience, no problem, the guides will take care of you! The total museum installation will one day form an artificial ecosystem where various fish and marine mammals will thrive.
3. The Dolphin Royal Swim is definitely the best swim with dolphins program and one of Cancun best things to do. The Dolphin Royal Swim is done at Isla Mujeres, where you'll be able to swim with dolphins in their natural habitat not in a pool. Enjoy more than 7 different dolphin behaviors including the "Foot push" and "Dorsal Tow". You'll also be able to handshake, hug, and kiss and have free time with the beautiful dolphins.
4. Once you reach Playa Norte, the island's main beach, you won't want to leave. Its warm, shallow waters are the color of blue raspberry syrup and the beach is crushed coral. Unlike most of the island's east coast, Playa Norte is safe for swimming and the water is only chest deep even far from shore.
5. Tortugranja (turtle farm) is a government-sponsored hatchery for endangered sea turtles. At this Turtle Farm, eggs are deposited into safe, caged areas to keep them safe from predators. Once hatched the baby turtles are moved into ponds until they grow big and strong enough to be released into the sea. Easy to find, the turtle farm is located on Sac Bajo (North of Playa Paraíso).
6. Swim with Whale Sharks. Immerse in the Most Amazing Adventure in Isla Mujeres swimming with the Biggest Fish in the World and experience these humbling gentle giants up close. Also enjoy the crossing where you can see playful dolphins and stingrays in their natural habitat.
7. Tropical fish in El Garrafón de Castilla. Not to be confused with "Garrafon Park". A golf cart will get you here. Hardly any tourists seek it out or visit it. It's a great family beach and a protected snorkeling area. To make it interesting, buy some fish food, stand still or float, and friendly colorful fish will envelope you looking for lunch.
8. Catamaran Isla Mujeres. Don't miss the chance of spending a wonderful day sailing through the Caribbean Sea and to Isla Mujeres in a catamaran. Enjoy the sun and the breeze while sailing to the reef where you will have the opportunity of snorkeling and admire hundreds of colorful fish.
9. If you are into archaeology, at the southernmost point tip of the island you'll find a religious center that dates back to the 12th century dedicated to Ixchel, the Mayan Goddess of Fertility. The temple has another purpose, as it was used as a lighthouse for the Mayan ships travelling along the coast.
10. Before you catch the ferry back to Cancún, you can rent a bike or golf cart and cruise the Island. At the south tip you'll find a small lighthouse from where you can appreciate the stunningly beautiful turquoise clear waters of the Mexican Caribbean.
Remember that the membership of Royal Holiday offers to members hotels in Cancún, Cozumel and Playa del Carmen to make your stay in the Mexican Caribbean an unforgettable one. Book now!