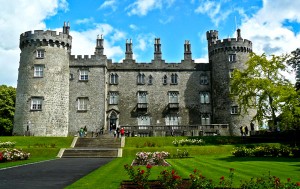 Royal Holiday offers more than 100,000 members the chance to escape to a sunny tropical paradise for their perfect beach vacation. However, they also have the opportunity to enjoy historic European cities that are rich in history and culture, like Kilkenny, Ireland, where they can stay at Knocktopher Abbey.
Kilkenny refers to both a city and a county in Ireland. The city, called "the heritage capital of Ireland" by some, started out as a monastery before evolving into a market town in the Middle Ages. The region contains a number of sites that allow visitors to immerse themselves in Irish culture and tradition. In Kilkenny City, local silver artisans practice their craft in the shadow of two cathedrals, a castle dating to the 1100s, a large abbey, and several picturesque public gardens.
Outside of the city, County Kilkenny offers up a number of excursions. A few kilometers northeast of the city, travelers can tour Dunmore Cave, where calcite formations can stretch three times the size of a person and higher. Further down the road is Jenkinstown Park, which offers trails that wind through a forest and sites for picnicking. Visitors who head southwest from the city will find a famous orchard and Burch Church Castle, a spot where Oliver Cromwell once rested, as well as a priory with beautiful tower houses.
Ireland has a reputation for charming villages, and County Kilkenny is home plenty of those as well. In Bennetsbridge, local artisans create internationally famous pottery, as well as woodcrafts and candles. Thomastown offers glass-blowing and the 12th-century ruins of Jerpoint Abbey, as well as trout and salmon fishing on the River Nore. Nearby, the extensive ruins of the medieval town of Newtown Jerpoint offer a fascinating glimpse into this era. And above the village of Inistoige, travelers can visit the Woodstock Gardens and Arboretum to tour its collection of exotic trees and plant species.
Weeks at Knocktopher Abbey start at 9,541 credits for Royal Holiday members. To learn more about the accommodations or to book nights for a Kilkenny vacation, visit Royal-Holiday.com.