When in Barcelona make the most of your Royal Holiday membership by staying at the Citadines Ramblas Barcelona, located at the heart of Las Ramblas within walking distance to with many interest points.
Barcelona is Spain's second largest city and the capital of Catalonia. Founded more than 2,000 years ago Barcelona is thus as historic as it is modern, with a constant flow of projects changing the face of the city and long-standing penchant for design and innovation. Thanks to the wealth of attractions, a lively nightlife and a robust transportation system, Barcelona has become one of Europe's, and pretty much the world's, most popular tourist destinations.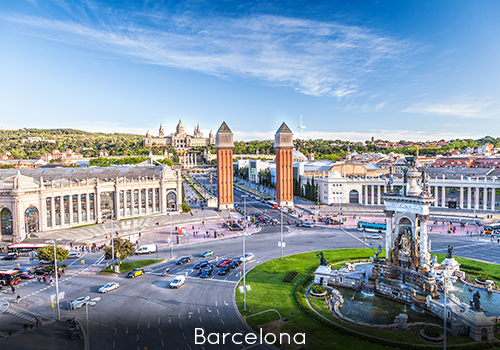 Wherever you are, there's always something to see in Barcelona: jewels of home-grown, modernism, and contemporary architecture, markets that are a treat for the senses, treasures of the ancient Roman and medieval city, parks where you can unwind… And the best thing of all, you don't have to be a great explorer to find and discover all of Barcelona's neighborhoods.
Barcelona is a great city to explore by foot. It takes little over an hour to walk from Port Vell at the seaside to Park Güell at the foothills of the mountain range at the northeastern end of the city, and you can see a range of attractions, including La Rambla and Sagrada Familia, on your way. There are opportunities all around to sit down and enjoy a drink or a meal everywhere. If you are fit, you can pretty much explore the city by foot alone, unless the heat beats you in the warmer months (and then you can always resort to the air-conditioned metro).
Begin your sight seeing tour at the Temple of the Sagrada Familia, designed by Spanish architect Antoni Gaudí. The church has been in construction for 100 years with an anticipated completion date of 2026, the centenary of Gaudí's death. Keep walking and you will come across Gaudi's Casa Milà o Pedrera and Casa Batlló, one of the strangest residential buildings in Europe. It's a house where everything swirls: the ceiling is twisted into a vortex around its sun-like lamp; the doors, window and skylights are dreamy waves of wood and colored glass; and chimney pots add a surreal touch to the roof.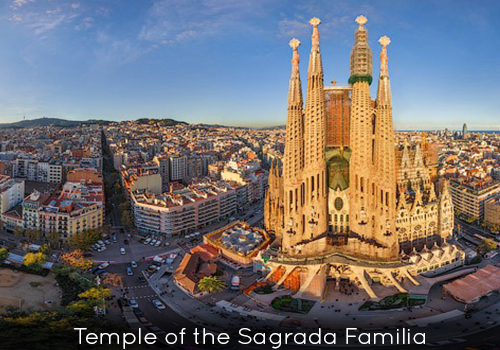 Spring, summer and fall are ideal seasons to spend some time outdoors. Parc de la Ciutadella, Barcelona's most beautiful park, holds a boating lake, playgrounds, a waterfall and the city zoo. It's always thronged with people, but a wonderfully relaxed place nonetheless. Park Güell, designed by Gaudí, is an extraordinary surreal park with buildings that seem straight out of Hansel and Gretel. The large cross at the Park's high-point offers the most complete view of Barcelona and the bay.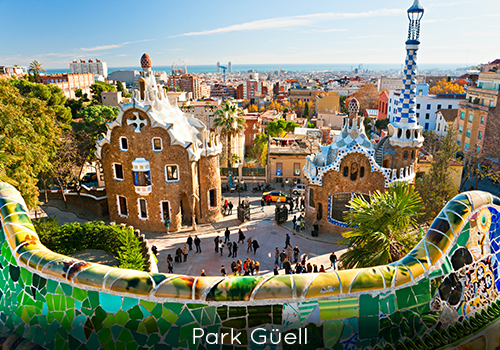 Barcelona's architecture heritage dates back to the medieval era with The Plaça del Rei, the Cathedral, which stands out among the Gothic and neo-Gothic buildings; Santa Maria del Pi, Catedral de la Santa Cruz, Santa Eulali, built in 1298; and the magnificent Santa Maria del Mar in the Ribera neighborhood. The palazzos on Carrer Montcada are of superb beauty. On the Via Laietana is the Plaça Ramón Berenguer nestled among the city's Roman and medieval legacy. Near the waterfront, you'll find Gothic-style civic buildings. Further away from the city center is the Monestir de Pedralbes, a secluded, peaceful spot.
Barcelona is home to 2 of the world's most acclaimed artists: Joan Miró and Pablo Picasso. The Joan Miró Foundation contains the artist's most important collection; while the Picasso Museum exhibits painting from the first stages of Picasso's work. Both are located in the Barcelona Gothic Quarter. The Museum of Contemporary Art (MACBA) located in the Raval district, houses important works of international artists in changing exhibitions. The best known is likely to be Tàpies, Fontana, Saura and Klee. Focus is set on the second half of the 20th Century.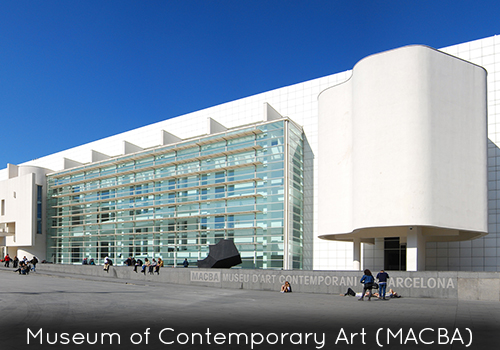 Whether you are a foodie or simply enjoy eating, Barcelona is one of the greatest cities in the world to enjoy food. Unlike the rest of the cities in Europe, Barcelona offers a special taste for markets: smells and colors for curious foodies and gastronomy lovers. Markets have developed hand by hand with modernist architecture and passion for high-quality food. There are 39 to choose from.
La Boqueria (La Rambla, 89) opened in 1836 under the name of Sant Josep Market; is Barcelona's best markets and one of the best in Spain. Tourists, locals and chefs come together in its corridors since the products in this market are hard to find somewhere else. From its entrance on Las Ramblas, an authentic journey of the senses begins. Once you are inside, an explosion of smells and colors takes place. Temptation comes from any type of food: fruit from the whole planet, fresh vegetables from traditional 'payeses', different types of sweets, home-made sausages and fresh fish coming directly from the port. Combining familiarity and high-quality products, La Boqueria Market also offers gastronomy on its corridors.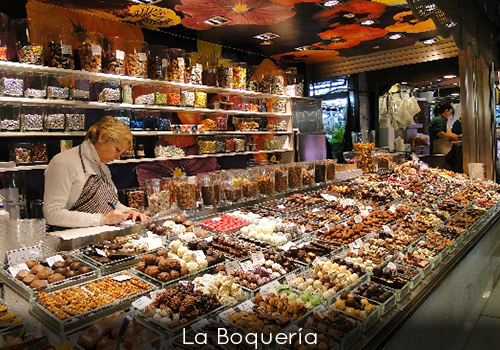 For Spanish people and Europeans in general, it's always the right time for a good glass of wine, and you don't have to be an expert to enjoy one. However, when looking to take your discerning palate for a ride through the 79 denominations of origin of Spain or beyond, a bit or research will serve you well. The wines of the Catalan region include sparkling Cava, dry white wines and powerful reds, known as "black" wine or vi negre in Catalan, due to the color of the grape. The grapes of the region include the Cava and white wine grapes of Macabeo, Parellada and Xarel·lo and the red wine grapes of Garnacha, Monastrell and Tempranillo. There are hundreds of bars in Barcelona where to sit and sip some reds, whites, pinks and cavas.
"Ir de marcha" or going out on the town is what locals and tourists do at night in Barcelona. The Spanish eat late, drink late and go out vey late. On weekend don't be surprised if nightclubs are pretty much empty until at least 1:00 – 2:00 in the morning, and they go on until about 06:00. Nightlife is trendy, eclectic and exhilarating. Even if you aren't really a clubber it's worth going out to a nightclub just to see what's on offer.
If you have had your share of culture and museums, and it's summer, you can bask in the sun, go for a swim, wind or kite surf in Barceloneta Beach. To get there you can catch the yellow line metro and get off at the Barceloneta stop. You can also walk, it will take you about 20 minutes from the end of La Rambla. If you choose to walk there are some enchanting views en-route. You'll see a memorial to the great explorer Christopher Colombus, and a little further along is the Port Vell de Barcelona, a picturesque port with a beautiful view of the sea and marina.
The Camp Nou Experience has become an obligatory stop for visitors to Barcelona. Here you can walk through the most emblematic areas of the stadium; see the league trophies that FC Barcelona has won over the years; learn about the history of Barça in the form of interactive tables and wall displays, and even watch a soccer game.
For great shopping The Passeig de Gracia is Spain's most expensive, fashionable and famous street. From the biggest brand names to the most affordable, from the exclusive shops to those open to everyone, you'll find a treasure to carry home that suits your taste and fits your budget. Some of the top brand names include Stella McCartney, Valentino, Prada, Luis Vuitton, and a fantastic department store named Santa Eulalia with labels such as Balenciaga, Jimmy Choo, Stella McCartney and Ann Demeulemeester.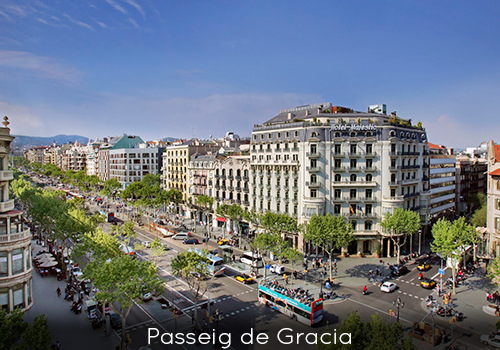 The real pleasure of Barcelona is in the wandering about, so allow plenty of time for simply mooching. As you see, Barcelona has something for everyone. We invite you to explore this fascinating metropolis with your

Royal Holiday membership

. We trust you will love this dazzling town.