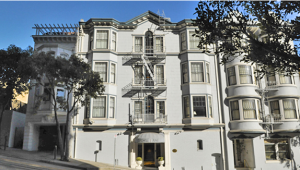 Royal Holiday caters to travelers of all types, whether they are seeking mountain beauty, seaside relaxation, or high culture.
Royal Holiday members who want to visit the shops and landmarks of San Francisco can look forward to spending nights at Powell Place at Nob Hill. Situated in the center of one of the city's most prestigious neighborhoods, Powell Place offers easy access to San Francisco's sights and commercial heart, making it an excellent place to stay during either a vacation or a business trip.
Guests at Powell Place at Nob Hill can reach San Francisco's famous cable car system with only half a block's walk and will find themselves close to both the Performing Arts Center and Chinatown. Farther out, they can visit attractions ranging from Fish Alley and the Wharf to the Golden Gate Bridge and nearby Baker's Beach. Powell Place itself is a four-story building constructed in the Edwardian fashion.
Its rooms are built in a condominium style and come with full kitchens or partial kitchens as well as business-class wireless Internet connections. A garage two blocks from Powell Place at Nob Hill is available for guests who arrive by car.
Visit Powell Place at Nob Hill, a romantic weekend for two, a business trip with plenty of fun on the side – either way, you're right in the city center.