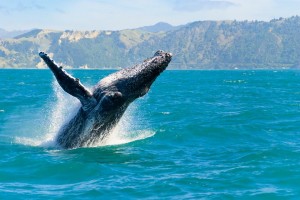 Did you know that very few beaches in the Los Cabos area are actually safe for swimming? Funny enough, they're perfect for whales!
Royal Holiday members go for some of the world's very best whale watching and many of them go back year upon year – every year.
Hundreds of gray whales migrate from the cold waters of the North Pacific back to the South. They're in search of a good place to get busy, and then (a year later), they'll come back to give birth to the resulting young.
December through March of every year, the warm waters of the Sea of Cortez play host to magnificent whales, and the seas literally come alive with jumps, performances and feats that result whenever a whale feels happy. Travelers from around the world celebrate the three month stay of these once endangered giants.
Indeed, of the world's 11 species of whales, no less than eight will winter off the Mexico coast. These include minke, bryde, sei, humpback whales, grey whales and blue whales.  Unforgettable, the experience of interacting with them, or just witnessing them across the water will reaffirm your faith in vacation.
From Los Cabos, excursions depart daily from both Cabo San Lucas and San José del Cabo. Royal Holiday travelers check times, schedules and itineraries with the concierge at the Park Royal Los Cabos.
Boats are staffed with experienced guides who answer all of your questions on the roughly two hour trip to Ojo de Liebre, Magdalena Bay or San Ignacio, where ever the gray whales are most likely hanging out on a given day. While jumps, flapping fins and enormous tails slapping can't be guaranteed, so long as the whales are not disturbed, nearly every voyage includes something to remember.
Of course, you can watch whales from the beach. A pair of binoculars will help a lot – and again, the concierge will tell you everything you need to know. A good dose of sunscreen is a good idea too.
The best opportunities for really communing with the whales are from December through February – each and every year. March will let you meet some of the stragglers and later departures but March visitors find they can usually relate.
The concierge at the Park Royal Los Cabos, as mentioned above, regularly schedules travelers on whale watching tours and a whole variety of similar excursions in and around Los Cabos. As the Park Royal is one of members' favorites for longer term, two and three week vacations, whale watching is but one highlight among the many activities they'll enjoy during a Cabos vacation!