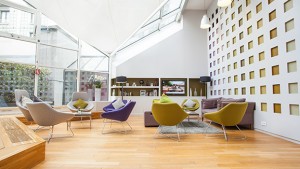 Royal Holiday travelers go everywhere. The foggy, gaslit streets of Paris are no exception. And the Citadines Prestige Les Halles is a welcome addition to the list super popular places they'll be staying.
A fully furnished apartment-style hotel, the Prestige replaces the Hotel Napoleon, and joins the Citadines Bastille Gare de Lyon among our most popular locations in Europe. With more space, more light and more Paris, Royal Holiday members have never had a better reason to head for Paris.
Just 35 minutes from the Charles de Gaulle International Airport, the Prestige brings you into a diverse Paris neighborhood of cafes, antiques shops, art galleries and boutiques. Just experiencing the streets is a terrific introduction to Paris, to France and to the Europe you'll remember.
With easy access to the world famous Paris Metro, all of Paris is suddenly within reach. Strolling from the facility, guests can easily walk the banks of the Seine, to the Pont-Neuf and the Ile de la Cité. The Dauphine Plaza, and the magnificent Conciergerie prison-palace complex are also nearby as are both the Louvre and the Orsay museums. With a wealth of book shops, antiquities dealers and cafes, its exactly what you expect from a trip to the capital.
But let's make this into a Paris trip to remember forever. Kitchenettes come complete with utensils for a few nights in. Breakfast is easy and even beautiful and a Microwave and coffee maker top off your best attempt at Parisienne cuisine. All units are outfitted with heating, air conditioning, bathtub, telephone, TV, alarm clock, hair dryer, and iron.
One more terrific advantage to the Citadines Prestige Les Halles is a streamlined check-in process so guests don't lose a moment upon arrival. All apartments are fully equipped, and every area of the complex is optimized for warmth and comfort so that you feel at home right from the start.
A full menu of a la carte services can include laundry, babysitting, a business center, wireless Internet zone and a fitness center. The Citadines Prestige Les Halles combines the best features of a private hotel with the convenience, space and luxury of a private apartment in the city.
Royal Holiday travelers are booking the Prestige now, not just for a trip to Paris, but for a long stay in the heart of a new and very exciting Europe.