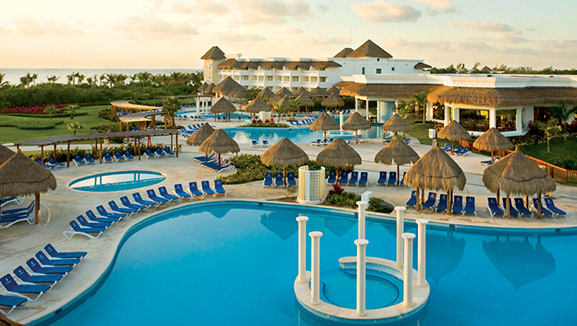 Royal Holiday travelers hit the beach all over the world. Some of the most fantastic beaches are on either side of the fabulous Caribbean sea that separates Cozumel from the mainland. What a mainland it is, too. The Riviera Maya is world renowned for wide, pristine beaches and some of the world's most gentle and beautiful beach country.
The Mexican Caribbean, as a whole, is always the most favored travel destination for Royal Holiday members no matter where they're from. This offer is a double-dose – guaranteed to please even the most travel weary.
All Royal Holiday members are welcome to book the Grand Riviera Princess as of May 1st 2014. And many of them already have. This special offer gives you a taste of something totally new – and a trip back to the tried and true at the Park Royal Cozumel!
The Grand Riviera Princess puts up guests in Jr. Suites, or Deluxe Jr. Suites big enough for two adults and two kids. The resort boasts no fewer than 12 restaurants, eight specialty restaurants and four "munch-all-afternoon" buffets. That's quite possibly more specialty fare than some guests will get to try in a quick vacation. Italian food, Spanish delicacies, Seafood, Asian and Mexican dishes are all served up fresh every day.
The Riviera May beach is unmatched, unparalleled and almost too indescribably beautiful – but just as turquoise and clear as you remember in Cancun. The resort offers no less than 13 swimming pools, some in the shade and some in the sun. There are also nine tennis courts, organized activities and plenty of space for free-form fun. At night, the Areíto club stays open late for revelers and if you're still not tired – just imagine a moonlight walk on a beach like this!
In fact, a week at the Grand Riviera Princess is proving so popular, we're inviting all members to mix it up a little.
Book a week in May, June, September or October at the Grand Riviera Princess. Then extend your stay for 3 nights FREE at the Park Royal Cozumel – just a ferry ride across the water. Or take your Three Free Cozumel nights – anytime in 2014.
Or book 4 nights at the Grand Riviera Princess and take advantage of a 3-for-the-price-of-one offer across the channel at the Park Royal Cozumel.


This offer is only for Members in good standing and must be booked prior to March 31, 2014 – for travel only in May, June, September or October of 2014. Call your Membership Services rep today. Subject to availability.
* See the complete terms and conditions on Royal-Holiday.com. This offer is subject to availability and applicable only with NEW reservations. Not valid during Prime season, on long weekends or state holidays. All-Inclusive fee is billable for the total nights booked. 2 Free nights offer in Cozumel must be consecutive nights, but may be used before or after the reserved nights. 3 free nights in Cozumel requires All-Inclusive fee be paid for each night.