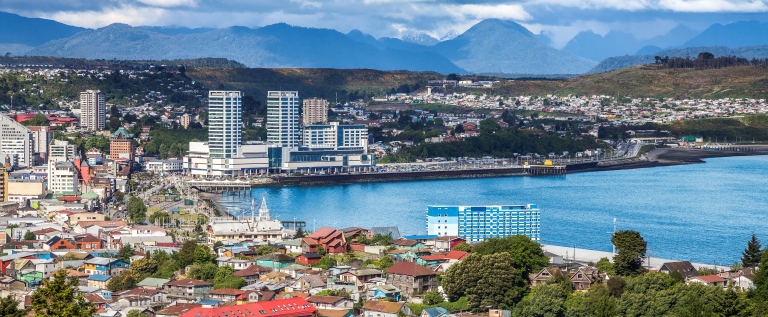 Founded by German and Chilean settlers in 1853, the city of Puerto Montt is located on the coast just north of Reloncaví Sound in the Los Lagos Region. This is where the Chilean Patagonia begins. Today, Puerto Montt is the main business center in Chile's south and stands out for its fishing, farming and livestock activities.
Puerto Montt is a favorite with tourists thanks to its rich natural resources including larch tree forests, lakes, islands and volcanoes—perfect for enjoying outdoor sports and recreation.
Here's a great selection of our favorites:
Coastline cruising
 Tour the fjords of Aysén and Magallanes on an international cruise or ferry. If you prefer to relax in the sands of southern Chile, head to the beaches Pelluco, Pelluhuin, Puntilla, Tenglo and Chinquihue in summer months.
Angelmó
 Don't miss Angelmó Bay—and its seafood restaurants, some with views of Tenglo Island and the Calbuco volcano. Dishes are prepared to order, including the sea pail, a fish and seafood broth. The "cancato" fish stew includes sausage, cheese and tomato. And don't forget to try the superb sea urchins! Then work off your seafood meal with a visit to the Angelmo crafts market where you can buy traditional Chilean handicrafts and products.
The best place to buy seafood is the seafood and fish market on Angelmo Bay. Here you'll find mussels, scallops, clams, crustaceans and the port's famous pink salmon.
Alerce Andino National Park
Head out of Puerto Montt on Chile's Route 7, also known as the Carretera Austral, to this national park which encompasses some 77 square miles of ancient forest that has become a must-see when visiting the city. Be sure to bring your best walking shoes.
Architectural tour
Amble down Puerto Montt's streets and you'll be surprised at the city's cathedral built entirely of larch wood. Stop by the Jesuit church, the Diego Rivera Art house and the Juan Pablo II Museum as well.
Make the most of your visit to this wonderful city by staying at the Manquehue Puerto Montt Spa.
Your accommodations include:
Located just a few miles from the airport
142 rooms, some with views of the bay
Gym and heated pool
Restaurant and lobby bar
Discover the wonders of Puerto Montt with your Royal Holiday membership!