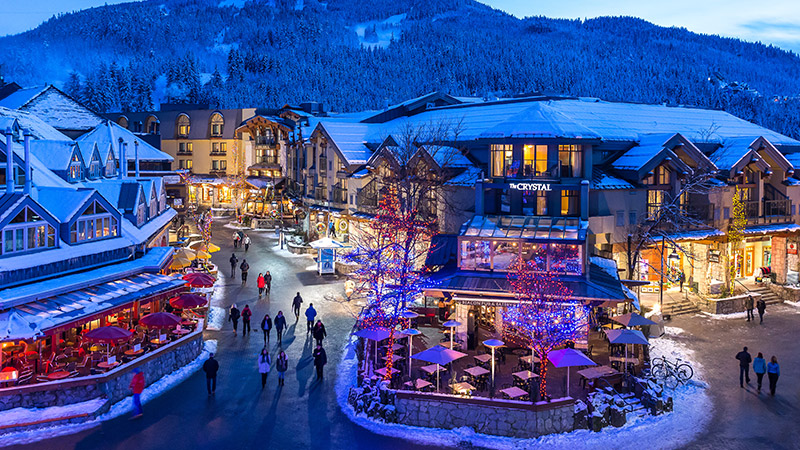 Did you know that with your Royal Holiday membership you can enjoy skiing at one of the best ski destinations on the continent?
There's no doubt that Whistler has everything a snow lover needs. Discover why!
Even though ski season starts in November and finishes in April, we recommend going in December, January, February, and March when there can be up to 4.5 meters of snowfall
Part of what makes Whistler so unique is its 3,307 hectares of land that includes ski runs for all levels
If you like speed, Whistler is home the to the fastest ski run in the world. You can go up to 100 km per hour in a matter of seconds on the Dave Murray Downhill run
If you prefer to snowboard, there are plenty of ramps to practice on
There are also 100 km of snowmobile trails to enjoy
In the spring and summer, Whistler is an ideal place for mountain bike lovers
For those looking for an adrenaline rush, you can go up to 150 km per hour at an incredible 200 m high on the Rainbow Mountain zip-line
At the Whistler Sliding Center, you can experience bobsledding alone by trying skeleton, where you can reach speeds of over 100 km per hour
Whistler also offers exceptional views of snow-capped mountains, frosted trees, frozen lakes and extensive tunnels
Take advantage of ski season by staying at the Westin Resort & Spa Whistler. Prized on two occasions as the best hotel to stay at while you ski in Whistler by the international magazine chain Conde Nast, the Westin Resort & Spa Whistler is truly spectacular.
About the Hotel
Unbeatable location only a few steps away from Blackcomb and Whistler mountain gondolas
400 rooms with a fireplace, flat screen TV, bathtub, kitchen, and incredible mountain views
Spa and gym
Family activities
Whistler is an unforgettable destination for adrenaline lovers. Discover the thrill with your Royal Holiday membership!