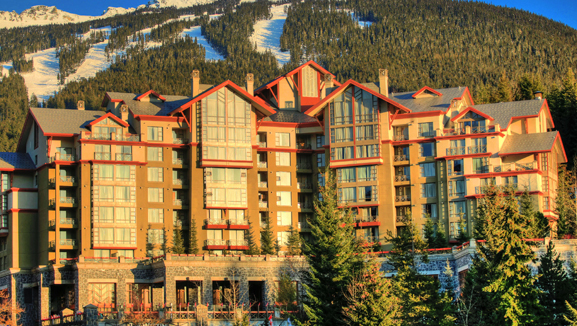 The backdrop is the dramatic Blackcomb Mountains. Upon arriving guests have been known to ask how this could possibly be just a resort for the winter. The fact is, it's not.  The Westin Resort & Spa Whistler is well regarded not just as a ski paradise, but a year-round oasis of peace, calm and wellness.
Just north of Vancouver and west of Alberta, in a wooded, mountainous and altogether beautiful corner of British Columbia, Whistler draws some 2 million people every year and Royal Holiday visitors are among the newest.
The Resort is just the most inviting part of your visit. Spacious guest rooms offer a variety of views, but each is well designed and laid out, with a fully equipped kitchen, TV, hair dryer and bath – and many come with a fireplace.
Onsite, the Aubergine Grille tempts guests with regional cuisine and some truly inspiring ingredients. The Firerock Lounge, named for the enormous stone fireplace, is entirely decorated with natural elements from the area, including river stones and felled forest trees. Whetting your appetite for dinner, or taking a snack in front of the TV is all part of the attraction.
There's nothing quite like a spa vacation to remind you that it's good to get away once in a while. Onsite is an always-relaxing indoor-outdoor swimming pool in the Spa area surrounded by several hot tubs. Lots of fitness equipment invites guests for an invigorating stay and the steam room is graced by the heavy scent of eucalyptus. And this is just for when you're enjoying the hotel grounds.
Outside, the town of Whistler, still fresh from the 2010 Vancouver Winter Olympics, offers exciting downhill skiing, luge runs, and bobsled chutes, just as a beginning. The Peak 2 Peak Gondola, the largest in North America, runs year round and the views are spectacular.
Summers are spent canoeing and biking and the onsite Spa & Health Club boasts no fewer than 75 spa treatments, from massages, facials and body treatments to ever more exotic enticements. Four excellent nearby golf courses challenge even the most avid of golfers and the river rapids run literally all year round. At the center of it all is the charming village of Whistler where shops, sidewalk cafes, and European style eateries abound and set the stage for one of the most perfect walking villages in Canada.
Of course, the Westin's renowned concierge service is on call. Well versed in all the local offerings, they're prepared to order tickets, even book ski lessons or make dinner reservations. They'll even help you to celebrate, with a surprise party or to ship home anything forgotten or just too big for the airplane.
The Westin Resort & Spa Whistler is a welcome addition to the Royal Holiday collection of fantastic holiday destinations. Your membership will get you there, and once you're there, you may very well be wondering why you didn't come sooner.