Long the most popular resort in the Park Royal portfolio, the resort at Cancun has been the classic spot for beach vacations since the 1980s. In the wake of the corona virus, a "new normal" has resorts and hotels open at a maximum of 30% capacity. For visitors, that means a slow and quiet holiday in paradise. With a resort almost to yourself, let's make sure it's a good one.
A WORLD-CLASS RESORT
The Park Royal Beach Cancun is known for its distinctive double pyramid towers on the beach. It's long been acclaimed as the most fanatically clean resort, and with the SAFE GUEST PROGRAM, it's getting cleaned even further. As a good value for a family vacation spot, many couples come back because it's never crowded and always feels like a familiar "just big enough" resort that doesn't demand long walks or shuttles.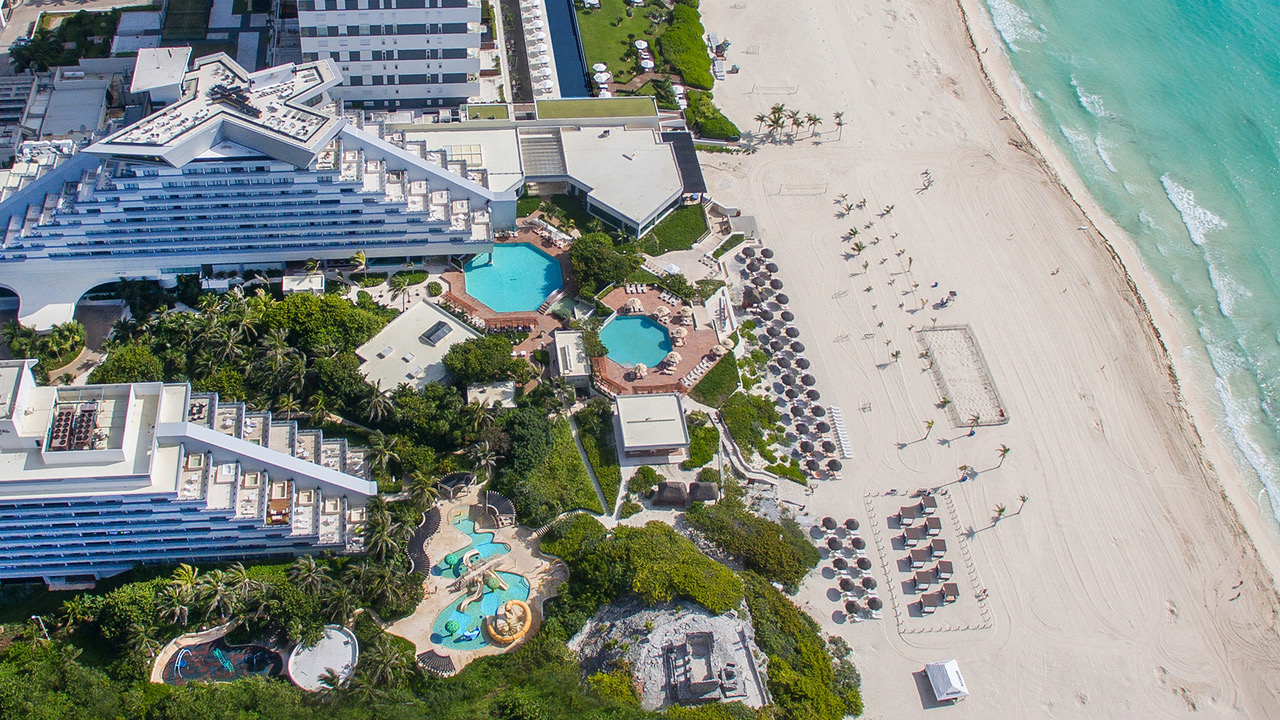 Centered around a magnificent dining room, that's just the beginning of the food you'll enjoy, as today there are three other specialty options for lunch and dinner. These include Mexican, Italian and seafood options. And there's an all-day refreshment stand and three cocktail lounges.
An all-new Kids Club lets parents get some time off too. Kids are supervised and safe, and they're never far off. With a magnificent stretch of beach, three swimming pools, a kids' splash area, and the protected Yamil Lu'um ruins right on the resort grounds, there's a lot to experience. But again, the main point is to relax and enjoy oneself, and that most people have no problem getting used to. The new Kiwik boutique just off the lobby offers surprisingly vibrant selection of local artisan works. And if you haven't been back for the spectacular Ekinox Bar, you're in for a treat almost as good as the sunsets.

THE ADVENTURE BEYOND THE RESORT
The resort faces the spectacular beach. But in the other direction, just across the street is the famous "La Isla" outdoor shopping center. Easily among the best in Cancun, it's perfect for anything you might've forgotten, from apparel to fashion and footwear plus a lot of little extras.  Sunsets are also taken in at the Cancun Scenic Tower, a rotating platform that climbs to 80 meters in the air. There are also two ancient archaeological excavation areas open to the public at San Miguelito and El Rey. And that's only the beginning. Staff at the hotel, or your Holiday Advisor can answer questions about excursions on land and sea.
All Park Royal Hotels & Resorts follow the strict protocols of the SAFE GUEST PROGRAM. That means you and your travel party will be safer while being part of the strict social distancing. You'll undoubtedly see a lot more cleaning and disinfecting, though guest rooms are sanitized before you get there! It's all part of a plan to make sure your vacation is precisely what you wanted.

You'll see. To book your stay today, call your Holiday Advisor now!